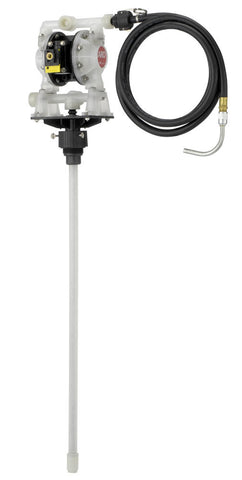 DAB05-APCC-2-O ½" Drum Pump
ARO 1/2" Drum Package - Dispense
ARO DAB05-APCC-2-O
14.4 GPM (54.5 LPM) for non-metallic
Features:
Complete dispense drum pump will move chemical from any 55-gallon drum to it's finishing application location.
ARO Drum Pumps are available in Aluminum, Stainless Steel or Polypropylene body materials
Stall-Free Operation - ARO Diaphragm Drum Pumps feature a patented 'Unbalanced' air valve design that avoids stall-out, even under low air-inlet pressures.
Bolted Construction - Unlike traditional band-clamp style pumps, ARO Diaphragm Drum Pumps utilize bolted fasteners for leak-tight integrity.
Factory-Matched - ARO Drum Pump Package components (adapters, siphon tubes, etc.) contain pre-specified, matching materials of construction for complete fluid compatibility.
Accessories:
P39124-624 Piggyback Filter-Regulator
637428 Air Section Service Kit
637427-CC Fluid Section Service Kit
General information:
Inlet/ Outlet: 1/2" 
Fluid Caps & Manifold Material: Aluminum
Seat Material: 

Polypropylene

Ball Material: 

Hytrel

Diaphragm Material:

Hytrel

Suction Tube length: 55 GAL
Fluid Outlet accessorie: 10' Nitrile hose (for aluminum pump)
Have questions or need help?  Call 419-633-0560
Teflon, Viton and Hytrel are registered trademarks of the DuPont Company - Kynar is a registered trademark of Arkema Inc. -  Fluoraz is a registered trademark of Greene, Tweed & Co. Inc. -  Santoprene is a registered trademark of Monsanto Company, licensed to Advanced Elastomer Systems, L.P. S